Close bigger with engineer-powered sales support.
Spectra Lab offers dedicated NI Seller Support
As a National Instruments Alliance Partner, Spectra Lab provides unparalleled domain expertise, accessibility, and "engineer-to-engineer" pre- and post-sale collaboration.
Through Spectra Lab's dedicated NI Seller Support, the Alliance Partnership ensures world-class hardware and software solutions to meet the needs of our customers.
Our deep RF domain expertise, industry-leading turnkey products built exclusively on NI hardware, and full-lifecycle technical support give you, the NI Seller, the perfect teammate to help equip engineers and scientists with systems that accelerate productivity, innovation, and discovery.
Throughout the sales cycle, as your trusted advisor, we collaborate with you on sales strategy, competitive evaluation, and qualification - a model employed by the most successful NI sellers. Schedule a time to speak with a qualified engineer. Spectra Lab responds to long-form proposals and provides RFP responses, and conducts on-site visits, system demos, screen-share webinars, or anything else that you need. Our goal is the same as yours - make that sale and keep the customer happy!
---
---
---
National Instruments First and Foremost.

We're dedicated to using and supporting NI hardware. While other providers might implement various hardware brands, our exclusive NI solutions add value to the NI solutions you deliver to your client.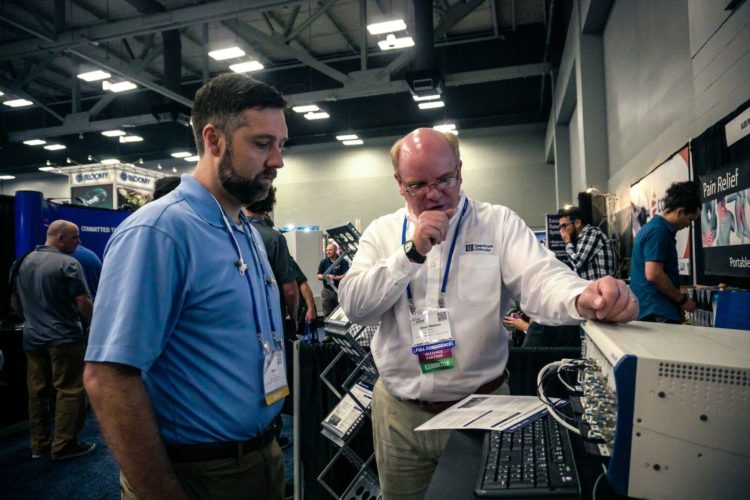 We take great pride in giving the NI sales force the capability to offer turnkey Spectrum Defender® systems to address technical challenges throughout the RF spectrum faced by leading-edge scientists and engineers in the defense, aviation, and communication industries.

Close bigger with engineer-powered sales support.
We're dedicated to using and supporting NI hardware. While other providers might implement various hardware brands, our exclusive NI solutions add value to the NI solutions you deliver to your client.
---
Leverage

Opportunities
Open doors to difficult accounts and close deals on high-dollar NI hardware with Spectra Lab.
While our focus is providing our existing Spectrum Defender® product line and software codebase to the military and aerospace markets, we recognize the value in serving potential customers who are pushing the performance boundaries of RF technology in commercial and research applications.
We can also engage opportunities that require a customized RF solution in order to penetrate a key account and build brand reputation for Spectrum Defender.
If your customer doesn't have LabVIEW expertise or programming resources, or is on a tight timeline with low risk-tolerance, Spectrum Defender provides turnkey solutions that can challenge Keysight/R&S plug-and-play (turnkey) user experience often found in traditional mil-aero accounts.
---
System Design & Integration
Spectrum Defender has been fully tested and proven, runs on most NI PXI VSA/VSG hardware, and is deliverable in both modular and customized configurations to meet your specific requirements. Spectrum Defender can be delivered as a turnkey system with an executable file, or as a programmable API where the end-user integrates the Spectrum Defender platform into their own top-level software or test executive. Our Standard (SD) systems come with fixed specifications and are immediately available. Build-to-Order (BTO) systems allow for minor variances to the fixed specifications and are readily available in 2-4 weeks. Custom (CST) systems are available to meet customer-defined specifications on a project-specific delivery schedule.
---
---
The Spectrum Defender software platform serves as an Operating System and Unified Graphical User Interface (GUI) for underlying PXI RF hardware instrumentation and processing subsystems. This mature, scalable software platform configures and controls instrument hardware, synchronizes multiple RF channels, applies inter-channel phase alignment offsets, supervises high-speed data movement channels, controls FPGA processors, and manages storage systems. Our software has been on the leading edge for over 10 years and continues to evolve.
---
---
System-level Spectrum Defender marketing materials and spec sheets will ensure you have the detailed information you need at your fingertips. Our extensive system documentation is designed to allow the end user to completely disassemble, reassemble, service, and operate every aspect of the delivered product.
---
---
Spectra Lab's comprehensive menu of full-lifecycle support services—from on-site installation to training & calibration to warranty support—ensures customer confidence and your success.
Speak with a qualified engineer.