Directors Anthony and Joe Russo dedicated years of their lives crafting the film that became the top box office movie of all time. Avengers: Endgame is more than a typical sequel. It ties 21 films together, including The Incredible Hulk, Captain America: The First Avenger, The Avengers, and Thor. No one believes that the Russo brothers spent those years creating and editing in a room by themselves. The reality is, the movie industry has mastered the art of delegation. When it comes to RF field tests, creating a workflow to share and collaborate is integral to the success of the mission. 
Top three considerations when creating your ideal RF recording workflow:
How big is the team? Team size drives practical choices like determining whether or not a copy of the RF recording will be made for each team member or distributed on a self-service basis. If it's the latter, that would point toward a cloud storage solution. If it's the former, then sending the media via FedEx would likely be preferred. 
How quickly is access to the data needed or expected? Even in today's highly connected age, cloud services are always going to be slower than overnighting a hard drive with terabytes of data. For team members who have a highly-sensitive, time-critical need to review data ASAP, it will always be hard to beat sneakernet. 
What are the current tools at your team's disposal? In terms of analysis and playback hardware/software, it's important to consider the tools your team members are currently using. They need to have the ability to import the files and analyze them in a productive way. You'll want to avoid sending data in an undocumented proprietary file format that is only compatible with one particular vendor.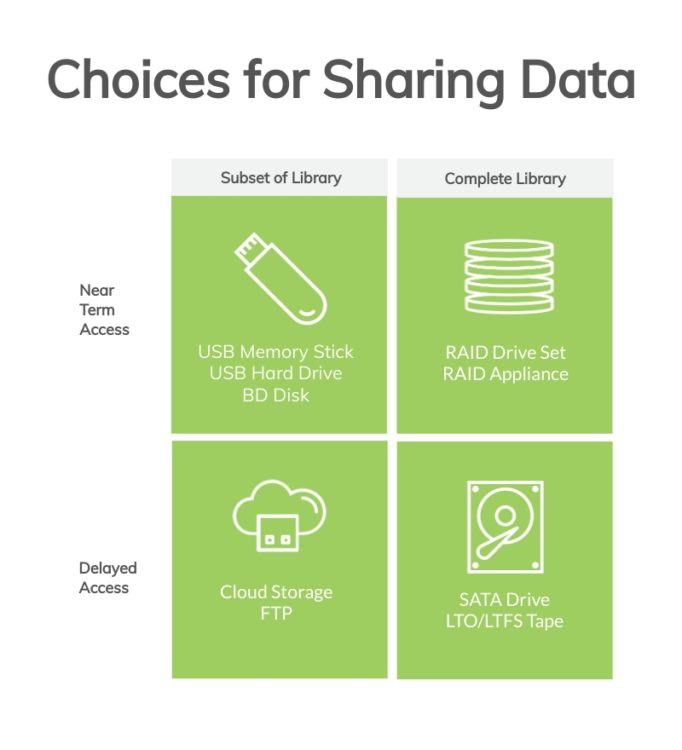 Share and Collaborate Seamlessly 
We're all familiar with the basic choices for sharing data: USB memory sticks, USB hard drives, SATA hard drives, RAID array, LTO tape, and cloud storage. What may not be as obvious is that these options can be ideal or wildly inappropriate based on each team member's use case. 
There may be some who need a complete data set and others who need a small subset. Choosing USB distribution for both would result in wildly inappropriate solutions (e.g., 64 memory sticks in an envelope). Similarly, some team members may need data within 24 hours and others may be happy to download it a month later. By carefully considering each of your team members' needs and expectations, you can provide a distribution solution that's optimized to meet their needs.
Getting the data to each team member is actually only half the battle. The other half is ensuring they have the tools they need to import the files and analyze them in a productive way. Unfortunately, the history of RF recording instruments is littered with proprietary file formats invented by vendors that no longer exist. There is no de facto format. The best you can do is demand that your instrumentation vendor use a format that is fully documented and accessible to anyone who needs to read and analyze the recording data. Ideally, the file format will be something that can be read in general purpose languages such as C or MATLAB.
Planning your sharing and collaboration workflow can be complex. Beware of a salesperson who doesn't ask questions about what you're planning to do after the recording is done. It's also a red flag when an instrument manufacturer expects that a one-size fits all workflow will be sufficient for you. A true domain expert with a history in the trenches will be eager to walk you through your workflow options and guide your purchase decisions along the way. Choose a vendor who will listen to all your requirements carefully and provide the ideal solutions. 
Ultimately the success of your workflow will be judged by the frictionless collaboration amongst your team. That's how Hollywood makes blockbusters and that's how you'll create the next blockbuster engineering report. 
Stayed tuned for the final episode!