Spectrum Defender is a unique RF instrumentation product for the military & aerospace industries that provides RF Recording, Playback & Arbitrary Waveform Generation.
Spectrum Defender is a proven platform that eliminates program risk.
Benefit from Spectrum Defender's 10-year platform history of development and deployment experience. Avoid the pitfalls inherent in new development. Spectrum Defender eliminates productivity-draining data transfers through our direct-attach storage technology so that operators can immediately share signal data between any two instruments or PC Workstations by simply moving a cable. 
Legacy platforms transfer data between instruments at a 5x-10x slower rate than real-time, requiring as much as 10 hours to transfer 1 hour of mission data.
Extends mission viability. Direct-attach storage technology permits quick and easy recording media interchange for longer duration recordings and mission extension.
Reduces risk of operator-induced mission failure. Simple user interface ensures "train once, use anywhere" familiarity across any instrument in the Spectrum Defender platform.
---
---
---
Includes an upgrade path that provides life-cycle savings.
Modular PXI instrumentation architecture avoids point solution obsolescence and permits continuous platform evolution with updated hardware and software offerings. 
Provides a platform-wide maintenance solution.
With a single point of outsourced maintenance responsibility, internal resources are relieved from the burden of ongoing support for all types of single- and multi-channel acquisition and generation systems.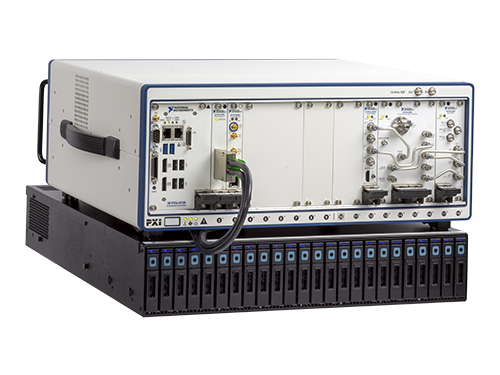 More Information
---
---
Download a Case Study on GPS Testing
---
Download the Why RF Record/Playback Comparison Chart
---
Reduces Complexity and Cost
Price Comparable to Rack-and-Stack

Extremely Easy to Use

Calibration Holds Across Reboots

Excellent Fidelity & Emulation Duration

Design Engineer-Friendly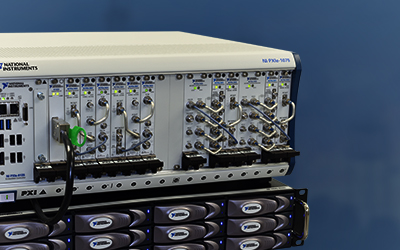 ---
Standard (SD)
The SD configuration is available immediately and comes ready with NI hardware and regular maintenance releases.
Software release:
Trunk
---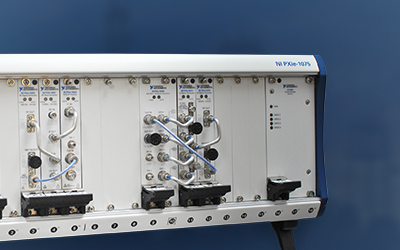 ---
Built-to-Order (BTO)
Our BTO configuration is readily available and allows for minor variances. We also offer fully documented design packages.
Software release:
Product-specific branch
---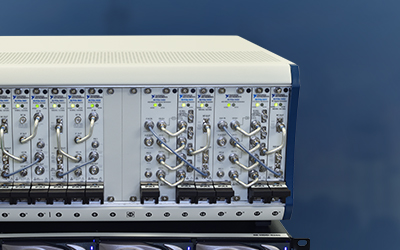 ---
Custom (CST)
Spectra Lab can customize the Spectrum Defender™ according to the customer's exact specifications and delivery schedule.
Software release:
Customer-specific branch
---
Spectrum Defender™ Solves Major Engineering Challenges
#1
Data Throughput
100MHz/channel = 500MBytes/sec/channel
8 channels = 4GBytes/sec
Sustain for 12+ hours
No IQ sample drops
#2
Phase Coherency
Extremely tight and repeatable phase lock, measured as both long-term drift and short-term jitter
Multiple-channels, all-channels frequency & phase locked with repeatable calibration and alignment
#3
Alignment
(System Level Calibration)
Maintain phase alignment across multiple start triggers without manual recalibration (required to enable unattended playback of multiple waveforms)
#4
Signal Fidelity
Excellent group delay, response, SFDR across 100MHz
Smooths the timing errors associated with PXI/PCI Express packeting and spinning mechanical hard drives with variable seek times.

---
---
Start using Spectrum Defender the moment it arrives.
Comprehensive Support Services
---
Spectra Lab provides a full life cycle of comprehensive support services and warranties on every Spectrum Defender™ system to ensure your success and the viability of our customer's long-term investment. 
We also provide you and our customers direct access to our design engineers, offering unparalleled technical domain expertise, collaboration, and support. Our Requirements Discovery Process is designed to build deep engineer-to-engineer trust with the end-user. Asking questions the end-user often hasn't considered enables us to determine stated and unstated technical requirements and project success criteria. Our ability to meet those requirements with a low-risk, extensively-documented, off-the-shelf products and world-class tech support, gives end-users confidence that they will succeed, increasing your ability to close the sale.
---
Installation and Acceptance
---
Factory Acceptance Test
To ensure the system has the performance specs and functionality required by the customer.
---
Customer Acceptance Test
When required to meet customer-specific business or technical considerations.
---
Support Services
Warranty and support documentation
Engineer-to-Engineer Training
---
Startup Assistance

Based on customer requirements, provides informal training to ensure the customer can start using their Spectrum Defender™ system immediately after delivery.

On-Demand Assistance

Allows the customer to request and quickly receive in-person assistance whenever needed.

Customized Courses

Available for customers with large teams of engineers or training needs that are not otherwise met by our Startup Assistance and On-Demand Assistance offerings.
Speak with a qualified engineer.
NI Alliance Partner
NI is the global leader in testing, measurement, and control solutions, and our partnership allows us to provide finished RF products to customers.
With Spectrum Defender built on proven NI hardware, engineers can start testing the moment the instrument is in their hands. NI's modular products allow Spectra to customize Spectrum Defender to meet the precise needs of the customer.